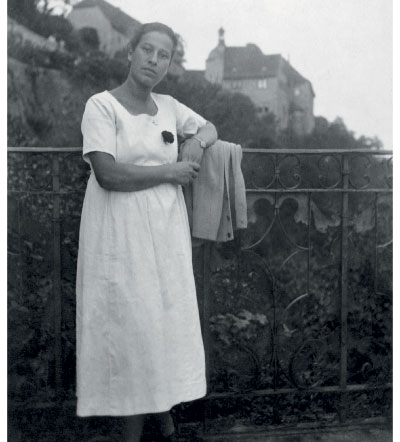 He didn't seem to mean it, though, for right away the female students, who during the first few years outnumbered the males, were assigned to the looms and kept busy weaving the days away while the male disciples were given free rein to pursue painting, sculpture, and architecture.
But even within the confines, the women made great stride. "The weaving workshop soon became one of the most productive and also had such commercial success that it took on a representative character for the entire Bauhaus," writes Müller. "The ideas and innovations which [the women] unleashed. . . led to a surge in development in industrial design and to an artistic re-evaluation of textile art." Unable to attend a glass workshop with future husband Josef Albers, Anni Albers embraced weaving and went on to become the best-known textile artist of the 20th Century. Another student, Ilse Fehling eventually established herself as the most sought-after set and costume designer of her time. The school also spawned many female photographers, among them Florence Henri and Grete Stern.
Constructed as a series of portraits of the recently recognized and more obscure Bauhaus women, Müller's book is an important addition to the literature on the school. It introduces us to such exceptional figures as Gertrud Grunow, the only female form master at the Bauhaus, who propagated through her teaching the ideas that our physical response to sound and color are derived from particular nerved areas, and Helene Börner who led the groundbreaking weaving workshop. But more than anything, the book acts as a somber reminder that when it came to the treatment of their women counterparts, the German avant-gardists weren't quite so avant-garde after all.