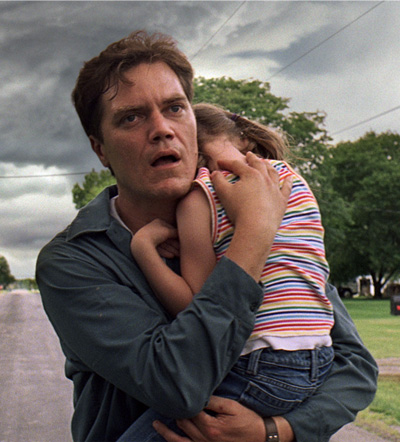 When Jeff Nichols' Shotgun Stories was released in early 2008, critics and civilians alike embraced the young filmmaker's tense, tragic tale of a feud between two sets of half-brothers. Heading the solid, mostly unknown cast was Michael Shannon, who'd previously given an awesomely unhinged performance in William Friedkin's psychological thriller 'Bug.'
Nichols' current film, Take Shelter, which opens this Friday, also stars Shannon, this time as Curtis, a husband and father whose nightmarish visions of an apocalyptic storm leave both character and audience questioning his sanity. The visually and emotionally intense film won the Critics' Prize at Cannes and was a Grand Jury Prize nominee at Sundance.
Take Shelter has a lot in common with Nichols' debut – spare dialogue, heartland setting, strong family theme, and a solid cast (Jessica Chastain plays Curtis' wife). But just as Shannon has gained visibility since his scene-stealing (and Oscar-nominated) turn as a troubled neighbor in Sam Mendes' Revolutionary Road, Nichols himself has become sought after. His next movie, Mud, about two teens who find a fugitive on the Mississippi River, stars Matthew McConaughey and Reese Witherspoon.

PLANET spoke with Nichols during pre-production for Mud, currently being shot in his home state of Arkansas.