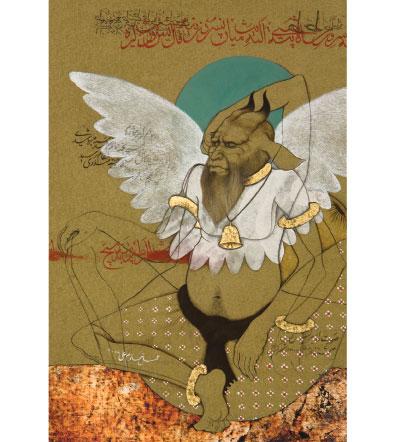 The old proverb that a picture's worth a thousand words
is probably never more beautifully illustrated than in the works of classical Persian poetry. The stories told with both crafts — poetry and painting — from their inception over a thousand years ago to the present day serve as a common consciousness for Farsi speakers in Iran and beyond. Completed by the poet Ferdowsi in 1010 AD, The Shahnameh (often referred to as The Persian Book of Kings in the West) tells the mythical and historical past of Iran from its Zoroastrian genesis 6,000 years ago up until the Islamic conquest of Iran in the 7th century AD.
Roughly seven times the length of Homer's Iliad, most of the abridged English translations of The Shahnameh focus on the allegorical tragedy of the hero Rustam killing his son Sohrab — whom he had never met — by accident in battle. Though elegantly written like the divans (works) of other Persian poets Hafez, Saadi, Rumi, and Omar Khayyam, whereas their works encouraged transcendent sublimation through love, drink, and dance, Ferdowsi intended The Shahnameh as an antidote toward any apathy of the past so as not to make the same mistakes in the present or the future. The book's sheer popularity cemented the Farsi language in even the remotest stretches of the ancient Persian Empire, from northern India to the Persian Gulf.