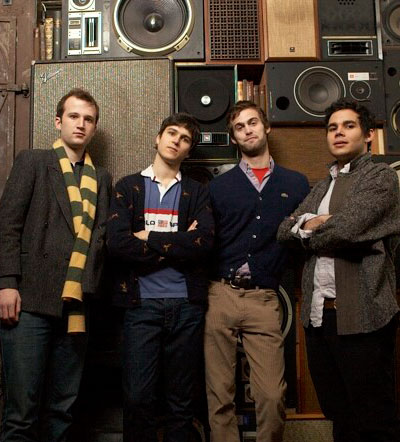 In February 2006, four seniors from Columbia University, in New York, got together to compete in the Columbia Engineering School's Battle of the Bands. They finished in third place, out of only four contestants. And so, Vampire Weekend was born.
With jovial bluegrass-loving Chris Tomson on drums, cool and self-assured Ezra Koenig on guitar and vocals, mad musical genius Rostam Batmanglij on keys and string arrangements, and buttoned-up, "Team Dad" Chris Baio on bass, Vampire Weekend have excavated a new brand of musical anthropology. J. Crew, meet the kente cloth. Earth-tone cardigans have been tied tightly around Polo collars flipped upright, as the Kanda Bongo Man is blasted to eleven. Call it "post-hipster". Call it "post-colonial". Call it "post-baccalaureate prep-rock", Vampire Weekend just hope you call it good.
Two years after that fateful Battle of the Bands, these bygone bronze medalists have struck gold with ubiquitous praise from the likes of The New Yorker, The New York Times, and Rolling Stone, and even some primetime loving from MTV's TRL for their self-titled debut. But the specter of third place remains. "It's hard to take [the attention] too seriously when there are multiple shows where there are still only thirty people [in the audience]," says Tomson, who cites the band's addiction to Arby's roast beef as further evidence of their modest ways.