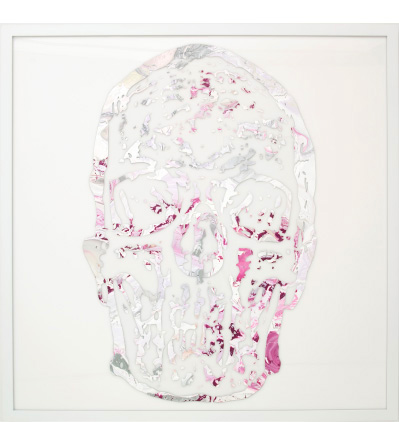 Leave it to the Wall Street Journal to really put the heat on a guy. Zane Lewis, an emerging artist based out of Brooklyn and San Antonio, experienced it firsthand several years ago following the publication of a little article. Named one of ten "23-Year-Old-Masters" in the 2006 story, Lewis garnered some serious artistic accolades, and a hearty buzz of expectations.
Yet three years later, working under pressure and status, Lewis still appears keen to the challenge. A new solo exhibit, Watch Me Slowly Death, is scheduled to open this month at New York's Mixed Greens Gallery, right in time to kick off the fall art season in Chelsea.
The exhibit will feature a series of mixed media paintings on Plexiglas, each piece a not-so playful juxtaposition aimed at the consumer excesses and youth-obsessed idolatry of our culture. Each untitled piece depicts luxe and glossy advertisements torn from the pages of a fashion magazine, overlain with neon, graffiti-like drippings of paint. The images are instantly recognizable (for who hasn't seen those ads for Chanel No. 5?) yet slightly distorted, like contemporary idols warped by the sun. Religious iconography, mirrors, and collage are also used to further the themes of death, power, and decay. The show is a mature, subtle investigation of what it means to live and consume in the face of global economic crisis, inevitably raising many questions. Is it still possible to live humbly? Does recession ultimately lead to rebirth?