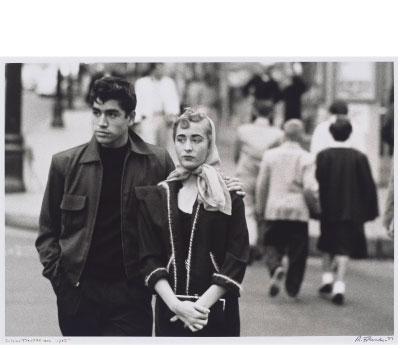 Last summer, PLANET writer Sarah Coleman covered Steidl's re-release of Robert Frank's The Americans to commemorate its 50th anniversary. This landmark collection of photographs was first released in France in 1958 — no American publisher would touch it — and only after its European success was it released Stateside in 1959.
Fifty years later, three of the most respected art museums in the country are marking the anniversary of The Americans with a traveling exhibition. Like Frank's original journey, funded by a Guggenheim grant, this museum show zig-zags across the country, starting at the National Gallery of Art in Washington DC and then moving on to San Francisco's MoMA, where it's currently showing, and heading back east to New York's Metropolitan Museum of Art in the fall. The show, which contains the original 83 photographs in the same order as they appear in the book, harks back to a country of segregated buses, drive-in movie theaters and mink stoles. Swiss-born Frank's photos expose a culture deeply divided, from the devoutly religious South to the pioneer spirit of the West to the glittery socialites of Manhattan. In other words, not much has changed.
Looking In: Robert Frank's "The Americans" runs through August 23rd at San Francisco Museum of Modern Art and runs September 22–December 27, 2009 at New York's Metropolitan Museum of Art.