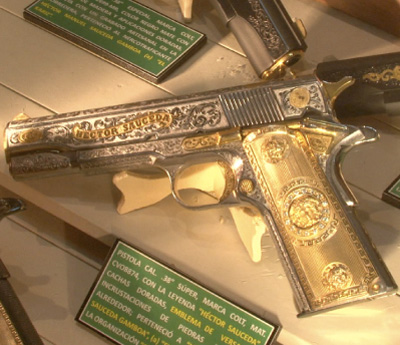 When a gram of coke is purchased in North America, much of the profit ends up blood-stained in the back pocket of a Mexican druglord (or more precisely, in one of his crates of greenbacks in a warehouse somewhere). And what will the druglord spend it on? Weapons and gold, mostly.
On the seventh floor of army headquarters in Mexico City, some of the kingpins' personal treasures are on show in a curious little bazaar of narco items called the Museo de Enervantes (Narcotics Museum). It's not open to the public — it's designed to complement the training of troops in the war on drugs, to help them get to know the enemy better — but PLANET managed to sneak inside and take a peek.
On show is bounty captured from gangster safe houses, or culled from their cold, dead bodies. The permanent collection is truly astounding to behold: like a Gulf cartel boss' cache of gold-plated, diamond-encrusted Colt pistols, elaborately engraved with initials, signatures, and pre-Colombian motifs. One has a Versace logo, though I doubt Gianni knew much about it. There's even a solid silver AK-47, which is completely useless as a weapon — it starts to melt after three or four rounds are fired.
The army says all the guns were custom decorated in the US and smuggled into Mexico along with all the other artillery imported by the cartels (samples of which are also on show in the museum: anti-tank 50-caliber Barrett guns, grenade launchers, bazookas). It's the old adage: while the drugs flow north, the weapons and cash flow south.