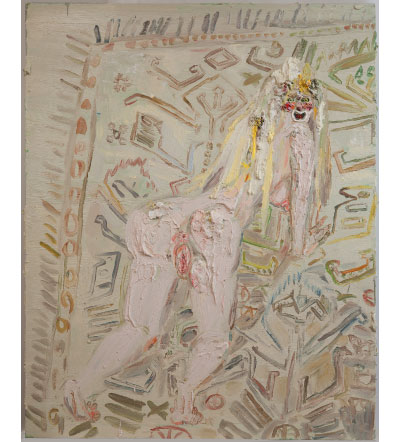 "I really love the handmade, in my painting, my animation, everything. I never was a fan of working on the computer…. I just like to see the thumbprint." Her work has been exhibited internationally, in both solo and group shows, at venues including Bellwether Gallery, New York, Groeflin Maag Galerie, Basel, 1/9 Unosunove, Rome, Mike Weiss Gallery, New York, Rokeby Gallery, London, and the Museum of Contemporary Art, Chicago.
Drawing inspiration from everything from flea market paintings and old animated porn to Ensor and Balthus, Schulnik's expressionist work mostly embodies a flair for the Southern Gothic. Deeply flawed, her grotesque characters often find themselves alone and vulnerable, the object of ridicule. The beloved clown becomes the somber hobo, the coveted virgin the tainted harlot. "I think that there's just something about the sad, pathetic characters that I'm drawn to." In Hobo on Bike, a sullen figure rides through the bleak landscape. Foppish, he fills his basket with beautiful things, only to make his hapless situation all the more absurd.
Blurring the line between human and animal, there is a certain ambiguity and contradiction to all of Schulnik's characters. In Rug Girl, a buxom blonde crawls on all fours fully exposed. Her animalistic desires expressed through her glaring eyes and clown-like mouth. In Black Monkeys, two childlike figures huddle together against the intruding viewer. In Raku Raccoon, the mischievous rodent becomes an upstanding gentleman.