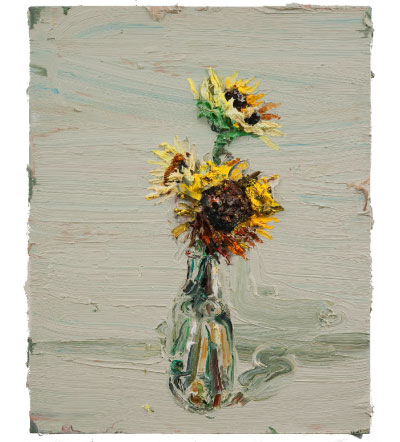 Even Sunflowers #7, an homage to Van Gogh, is strangely animate. Perhaps the most striking piece, though, is Jimmy. Deviating from her gentler and more foolish hobo clown, Jimmy is unnervingly real. A ghastly red smile offsets what upon closer examination is a frown. Gone are the big, black gaping eyes of the hobo clown, now replaced by small, piercing ones. The joke is over and no one is laughing.
Only from Schulnik do these characters find affection. In Home for Hobo, she provides her oil-paint children with "a sanctuary — a home, a shelter, some love." No longer searching, the characters come together in a wintry refuge, a sort of halfway house for the rejected. Schulnik hopes "that people find some compassion for the figures I paint, or some kind of connection." Her work challenges the viewer to find empathy with her flawed characters. The hobo clown, after all, is the projection of the viewer's hopes and fears. While the hobo may have found a home, given Schulnik's prolific tendencies, his trek is far from over.
Home for Hobo is on view at the Mark Moore Gallery through February 6.