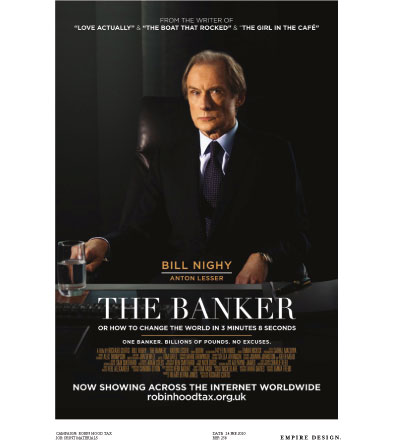 Although we're in the tail-end of the worst financial crisis in years, it doesn't feel like many lessons have been learnt. Just another global case of plus ca change…? With many people blaming the banks and the financial system in general for bringing the world economy to its knees, dozens of aid organizations have joined forces to kickstart a new campaign in the UK: The Robin Hood Tax.
Under the slogan "Turning a crisis for the banks into an opportunity for the world", what the men in green propose is very simple: levy a 0.005 percent tax on all banking transactions — eventually rising to 0.05 percent — to tackle global poverty and climate change. The proposed stamp duty doesn't sound like much, but at the lower rate, they claim, it could raise £3,000,000,000 (three billion pounds) a year in the UK alone, and at no cost to ordinary people. And if the tax went international, they say it can generate hundreds of billion of dollars, which gives you an idea of the kind of money swimming around the financial ocean.
A strong grassroots campaign is already in full swing (150,000 facebook fans) and boasts alleged support from some pretty important names, like Gordon Brown, the Archbishop of Canterbury, Angela Merkel, Nicolas Sarkozy, George Soros, and Warren Buffett, to name a few. The Merrymen's media campaign features heavyweight actors Ben Kingsley and Bill Nighy playing squirming bank executives in a series of slick little films. Check them out after the jump.