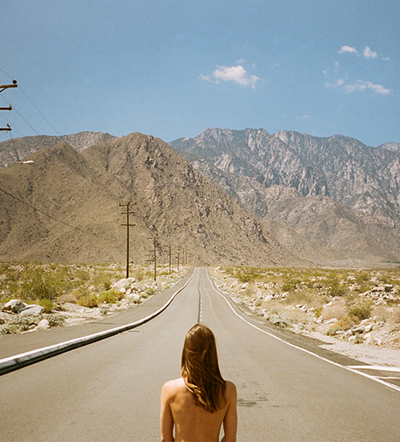 Please tell us about the origin of this series and how it evolved. In particular, what was the first spark that led you to shooting these from-behind portraits?
Well the book I published of this series is a lot more nudity than back photos, the back images just came about because of censorship on Instagram.
Beyond just getting around Instagram censorship, it seems like the photos developed a life of their own. Was there ever moment when you realized it was developing into something?
It became a thing of its own as there were more and more images of the same idea in different places. I have always taken self-portraits when I was in amazing places alone. Since I'm not a landscape photographer I wanted to put a human element in them so I always had myself. And the reason for the nudity was because… it's timeless!
Agreed, nudity is timeless, but that seems to imply making a decision, having a reason, and when I look at your photos I get more of a feeling of fun, a spontaneous act of freedom, like that's just a way you feel alive in the world…. Thoughts?
Yeah all those things get involved. It's being impulsive and spontaneous and almost getting arrested for being naked in public (haha). I love the fact that we all have a choice to just be free in whatever sense we feel that means. To me being naked in nature is my idea of freedom.