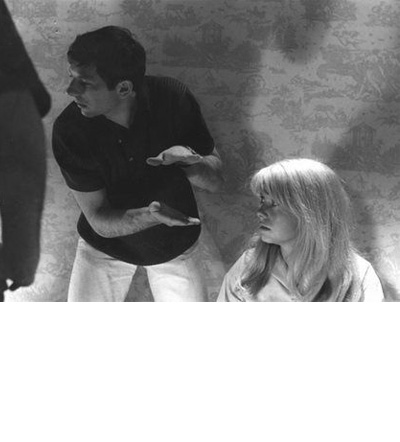 Denueve displays this unhinged state of mystification- the long lost stare, the vacant remoteness of the unbalanced, the ticks and fidgets – with such a convincing blend of perilous delusion and untamed innocence. Amongst a landscape of plentiful pitfalls – potential danger lurks behind every unchecked crevice – sanity is flimsy; everything registers in Carole's exaggerated sensitivity. Feelings follow thoughts, and, in turn, thoughts become functioning, interfering apparitions.
Little is revealed as to the root of Carole's phobias and fixations – a swift glance at a family portrait displays a young Carole in the background, as if superimposed into the scene, attention fixed on some faraway, hallucinatory peril. As the violent fissures of the city's pavements start to penetrate Carole's awareness – the spooks that linger at the corner of the eye will leak into the interstices of her vulnerable reality – left open, all manner of gruesomeness free to bleed through the cracks.

Repulsion will screen at MoMa on 22nd September.