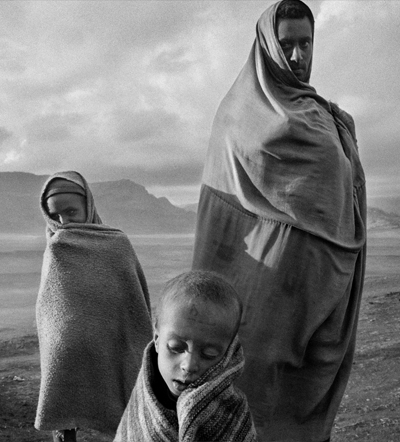 When you hear him speaking about his photographs and his experiences, it's never about I had to change my lens, the light wasn't good – it's all about the people. That's what he remembers."
Wenders has crafted a signature documentary style – his unique, essayistic meditations offer sensitive portraits of fellow artists– from fashion designer Yohji Yamamoto in Notebooks on Cities and Clothes (1989), to Pina (2012), a breathtaking celebration of the work of choreographer Pina Bausch. Wenders resists burdening his audience with excessive interpretation, allowing the work to the breathe with minimal interference. The filmmaker appears in a soft-spoken voice-over, and Salgado emerges as a warm and enigmatic figure. The affinity between the two men is clear – both provide a gentle onscreen presence and are clearly in possession of a remarkable eye – Salgado's monochromatic palette reminiscent of the starker tones of Wenders earlier work in Alice in the Cities (1973) and Kings of the Road (1976).
It's a challenge not to walk away spellbound by the stream of otherworldly compositions on screen – though some dispute continues on what the critic Susan Sontag termed "the inauthenticity of the beautiful." At times accused of sentimentalizing his subjects and aestheticizing oftentimes horrific scenes of starvation and infant mortality, Salgado's work brings into question the tension between the necessary functions of photojournalism and the nature of bearing witness to horror, with the aesthetic imperatives of fine art photography. Each photograph stuns, regardless of the contents of the frame, however abject or cataclysmic.