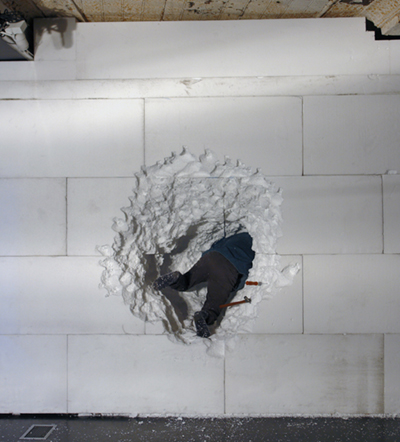 Investigating architectural sites rife with the potential for "confusion or misuse," Snarkitecture (the firm's moniker taken from a Lewis Caroll poem, "The Hunting of the Snark," in which fictional protagonists rely on a blank map to hunt an elusive, magical animal) relish in uncharted territory, with creative insights occurring in ever-evolving spatial and temporal frameworks. Likening Dig to a whiteout opening up myriad possibilities for peregrination, one's experience of Dig could be said to mirror its final façade, an otherworldly glacial cavern. With no qualms about reinventing conventional architectural wisdom, the duo's working methods mine the fine line between definition and ambiguity, quick wit, and imagination.
Undulating expanses of white not withstanding, Snarkitecture's distinct formal vocabulary (also including small spherical shapes and cylinders) is carefully hewn to its aesthetic practice, the tenets of which include "manipulating architecture, or the form of architecture, in ways that are unexpected." For Dig, Arsham reduces one form via multiple of controlled movements, guided by Mustonen, and over the course of nearly a month. The complexities of a single material become apparent through his repetitious cutting, chiseling, and hammering.
We sat down with the unassuming Arsham and Mustonen in their Greenpoint studio (bunnies roaming freely under clusters of luminescent ping-pong balls) to discuss the making of Dig.