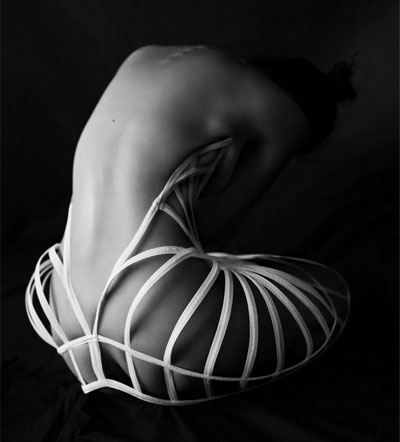 Fashion photographer Billy Kidd's newest work explores his partner and muse, Heather Huey, a milliner whose pieces have caught the attention of stylists such as Karl Templer and Nicola Formichetti. Huey and Kidd have been working together as artists and lovers with Billy behind the lens and Heather as inspiration for almost two years, using Huey's body cages and sinuous cocoons to help create poetic images that retain intimacy and anonymity. The result is an erotic ballad that is contemporary yet classic. Their work will be on view from September 6th at Clic Gallery.
Both of your work have an aesthetic that is undeniably grounded in classical aesthetics–Billy your work recalls Lee Miller and Man Ray, Heather you create headpieces, which are historically significant. Yet both of your work is undeniably contemporary. Has this brought you together?
Billy: I feel that's why Heather and I get along so well. We have such similar tastes that we often respond to the same things.
How did this body of work begin?
Billy: We started shooting almost 2 years ago as a photographer often does with his lover/muse. Heather being the shy one, took some time to open up in front of the camera. Our love and comfort with each other was the catalyst for where it went. It was a goal of mine to, without retouching, to alter her body into different shapes.